Feb 7, 2013
First things first. The requirements listed here HAVE to be followed in order to get your visa for India while in Chiang Mai. If you show up without these items or without starting the process online, they will turn you away until you follow these steps. The process will take 1 week from start to finish.
1. Go here and fill in the online application.
2. Take note of the purple/pink Temporary Application ID number at the top of the application when you start. This will allow you to finish the application where you left off if the website freezes or crashes (happened twice to me).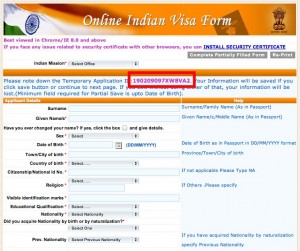 3. Submit the application shown above for online processing. This will get you an appointment date and time to show up at the Consulate of India in Chiang Mai. (I'll give you directions and a map soon)
4. You need the following items when you show up to complete the initial process to get your India Visa:
Passport with at least 6 months remaining before it expires.
2 passport photos in the 2″ x 2″ size. If you show up with the 1.5″ x 2″ photos, they will not accept them.
1 color copy of your passport.
1 copy (black and white is OK) of your Thailand Departure Card from the Thai Immigration Bureau.
A copy of your Thai visa, OR, if you have a simple 30-day tourist visa stamp from the airport or 15-day visa stamp from a land border crossing, you will also need to have a copy of this stamp.
Two references in India. These can just be two hotels, hostels, or bed and breakfasts you're planning to stay at while you're in India, but make sure to write down the addresses and telephone numbers before you head to the consulate because there is no way to look anything up while there.
Permanent address shown in your passport and/or your current address in Chiang Mai. Again – your hotel, hostel, bed and breakfast information is OK.
Your planned arrival date in India. The visa is valid from the time of issue so do the math correctly or your visa may not be valid for the time you need it.
3,170 baht (for U.S. citizens) which must be paid up-front at the time that you turn in all your paperwork and submit it for processing.
This form (shown below) filled in – WITH ALL CAPITAL LETTERS. If you turn it in with lowercase letters, they will tell you to fill out another form. (You can either make one yourself on Microsoft Word / Mac Pages, or show up at the consulate and they will give you one)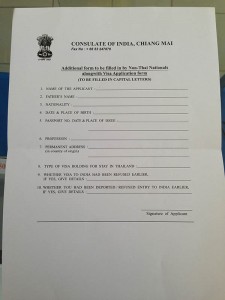 5. Getting to the Consulate of India in Chiang Mai.
Follow the map below and you can't go wrong. It's only a ten minute walk from the Train Station and about a 30 min walk from Tha Pae Gate.
You probably won't see the sign from Thung Hotel Road because the sign that is right out on the road faces north, so it's only visible while heading south. If you follow the map above (starting at the Tha Pae Gate), this is what you'll see when approaching the consulate: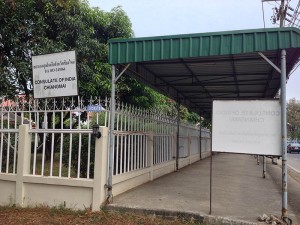 And here's what the consulate looks like from the street: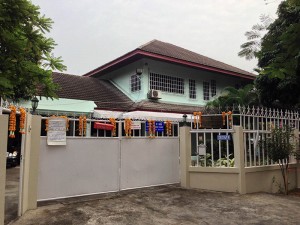 If all goes well, and you follow the instructions above, you'll end up with one of these in just 1 week: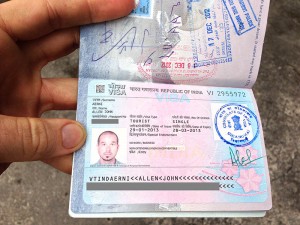 This information is accurate as of January 2013. If I hear of updates from my traveling friends, I will certainly update as needed. Be well. And Namaste.
What was the most difficult visa for you to obtain? For American citizens, I hear that China and Russia rank very high on the list.
Related Reading:
21 Responses to "How to get a visa for India while in Chiang Mai"