Nov 6, 2012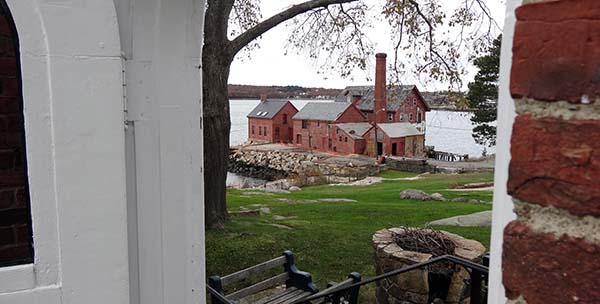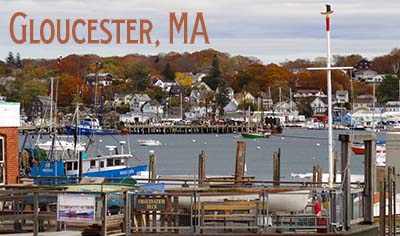 If you've seen the movie "The Perfect Storm" (or one of the other many movies filmed here), then you've seen Gloucester, Massachusetts. Everything you see around the bay and harbors is postcard-worthy and the people are warm and friendly. It's only a ~45 min drive from Boston so it provides a perfect afternoon adventure. I got up here early in the morning so I could take my time and wander around all day. I probably hiked about 15 miles or so perusing the shops, streets, buildings, statues, marinas, ports, old factories, and everything in between.
I literally started down in the lower left corner where the 127 marker is, and wandered clear around the entire bay, out to the very tip of Rocky Point, and circled back a slightly different route. I was met with smiles everywhere I went. The warmth of the people in Gloucester will warm your soul even on the coldest of mornings. My suggestion for breakfast is a little place called The Last Stop. It may not look like much from the outside, but they have incredible ready-to-eat goodies in all shapes and sizes. I grabbed a banana nut bread muffin and headed back out into the salt-air.
I noticed this building way out (tough to tell its so far out. LOVE my camera with 20x optical zoom) on the tip of rocky point and it called to me to take a closer look. It was neat how it happened, because after I noticed this building, I started heading that direction and found an area along the way called The Rocky Neck Art Colony. It's a gathering of small shops and artist studios with amazing people. Go for a stroll here and you won't be disappointed. As I talked to a few of the artists, they told me that the building I was heading towards was an old paint factory. Apparently, they came up with a copper-based paint used on boats that could combat the harsh elements as well as sea life that would plague the undersides of vessels. Their paint was shipped to ports all over the world for more than a century and is still made and sold in the USA (the factory at Rocky Point is empty though).
After my stroll around the factory, I decided to head back (the day flew by hiking 15+ miles and talking to so many great people and learning about the area). On my way back, I noticed a shop called Again and Again. Frieda and Wendy take old sails that are either donated to them or aren't sea-worthy any more, cut them up, and sew them into hand bags.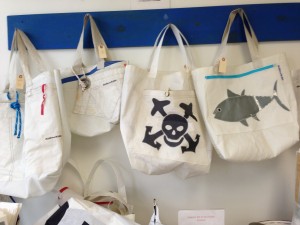 A fellow wanderer and friend of mine, Earl, mentioned that while visiting other countries, it's a good idea to have a potato sack, laundry bag, or something of the sort to stuff your pack into to make it look less conspicuous and therefore less likely to be stolen or pilfered. I asked Frieda if she had anything that would fit my pack and she said she had just the thing for me. She held up an old spinnaker sack and asked me to drop my pack into it to make sure it would fit. Like a glove. I opened up my wallet and asked her how much. To my dismay, she smiled and said "no charge." I thought she was joking so I asked her again. She said – no really, it's yours. We have more than enough here and wish you the best on your travels. I was glowing with gratitude, thanked her again and again, rolled up my new sack, shoved it in my pack, and left with yet another memory and story that I can take on my worldly journey with me. Every time I use my spinnaker sack, I will think of Frieda with her thick German accent and kind generosity. In my short trips so far, I've learned that the people I've met have been the most precious and rewarding gift so far.
Thank you Frieda. Be well. And Namaste.
Have you encountered any "trail angels" along your journeys? What have been some of the best gifts you've received (whether tangible or not) while traveling?
Related Reading: