Mar 4, 2013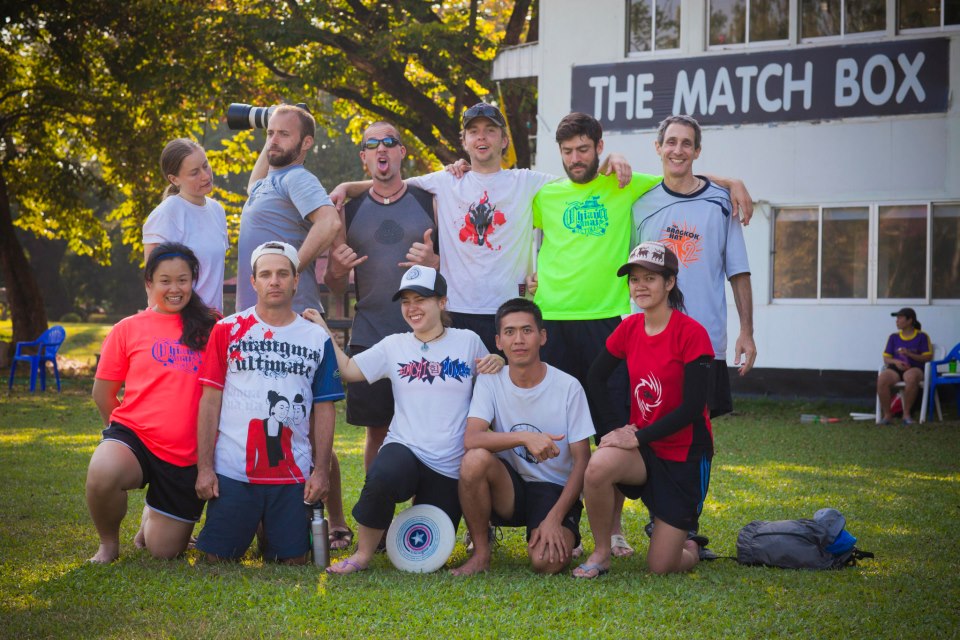 January 10. Day 26. After my wonderful 3 days of mahout training, it was time to head back to Chiang Mai and settle into something a little more permanent (I needed a home base where I could live for a while). When I arrived back in town, I was dead tired from only sleeping 3-4 hours a night for the previous 3 nights, so I found an inexpensive hostel in the middle of Old Chiang Mai called Walk Inn. The place was clean, close to everything, affordable, and had a hot shower so I grabbed it for 2 nights. I figured this would give me enough time to find a place to stay for a month or so.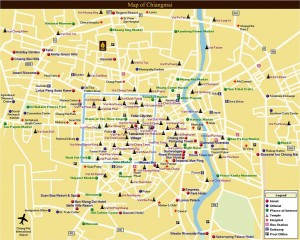 I slept solid for 12 hours and when I woke, I noticed I had an email from a friend back in Cincinnati telling me that her friend was working and living in Chiang Mai and was looking for a flatmate. I contacted her and sure enough, the place was beautiful, and she was super cool so I took it. I rented a scooter for a month, now had a house to live in for a month, and the only expenses left were petrol, food, and entertainment. The REAL bonus? The room only cost me 3,000 baht ($100 USD).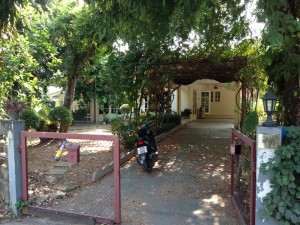 Rachelle and I started our month with a trip to the grocery store to stock up on a few things. We took turns cooking meals in the evenings, but most of the time, she cooked because she was a much better cook than me. Before I knew it, my new nickname became "dishes" because it took me a while to actually get to washing the dishes. I guess that's an old habit that I have yet to overcome. Rachelle spoke 3 languages fluently so it was neat to hear her bounce between the three languages effortlessly mid-sentence.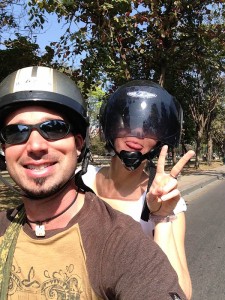 Most of my days were spent wandering around Chiang Mai while Rachelle was at work. In the evenings, we would cook dinner, hang out, or go see what was going on around town. A recent friend of mine – Damian – was a DJ and played at a place called Sunrise Sunset often so we went to go hang out with him, his wife Cris, and Bradley a few times. My time in Chiang Mai was great. Before I knew it, I had many new friends, a new set of wheels, a place to live, and a general understanding of how things worked.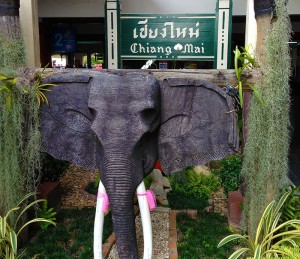 Another nice thing about Chiang Mai were the food options. Just about anywhere in Thailand, it was actually cheaper to go out to eat for each meal as opposed to going to the grocery store and cooking everything yourself. So with that in mind, I usually had juice several times throughout the day (fresh fruit juice was dirty cheap in Thialand – 1 L of pineapple juice for 52 baht which is about $1.75) and found a new street vendor or place to eat for lunch and sometimes even dinner. Traditional Thai food is spicy. They also give you a lime with just about everything to enhance the flavor. I also learned that adding a squeeze of lime or lemon takes the edge off of fresh peeled raw onions so you don't have to cook or sauté them in butter.
From my new home-base in Chiang Mai near the university, I spent lots of time planning my upcoming months. Within 4 short weeks of planning, I had 10 plane tickets, another 15 countries to visit, and many many hosts to stay with from couchsurfing.org. Couchsurfing became a very important part of my trip. The benefits of staying with someone local are endless. Most notable are the fact that they speak the language, know the area, and know how much things are supposed to cost (if you travel outside your native country, you'll learn quick that most places will try to gouge you if you're a foreigner because they think you have lots of money – especially the street vendors).
In my stories going forward (and I'll go back to update previous stories), I'll list who I stayed with, my experience with that person, and a link to their couchsurfing profile in case you want to contact and stay with them.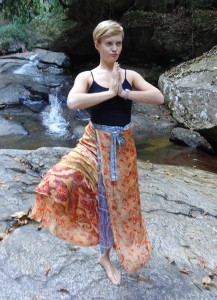 Here is Rachelle's profile. She was a wonderful host and an incredible cook. We spent a month exploring Chiang Mai. She has become a good friend and I'm even helping her with her new travel business Kronos Travels. She coordinates and hosts trips to Italy.
One day while in Chiang Mai, I decided to take my scooter and go for a little sight seeing to nearby mountains. Doi Suthep overlooks Chiang Mai and is one of the tallest mountains in all of Thailand. When I left, it was hot and sunny (at the base of the mountain). By the time I got to the top, 40 minutes later, it was still sunny, but felt like it was 15-20 degrees colder. The views weren't that good due to the smog in the air and the fact that it hadn't rained in weeks. About halfway up, I started seeing more and more signs for waterfalls so I took a little detour, parked my scooter, and walked about 10 km into the jungle mountainside to see what I could see. The sounds of the jungle were amazing. Animals of all kinds could be heard. There were also many types of tropical fruits growing everywhere – coconut and banana were the most common. Durian were also visible high in the trees from time to time as well. If you haven't tried Durian – you MUST. Get it as fresh as possible. They are about the size of a basketball, tan in color, and covered completely in sharp spikes. Once cracked open, you will see why many places have signs that say "no durian allowed" on the front entrance. They smell like old gym socks, but taste my custard from a fresh pastry. The edible part is the little cream colored sack inside and has the consistency of pudding.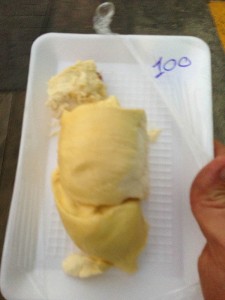 When buying it in Thailand, you can get a large fresh durian (already cracked open, removed, and ready-to-eat) for about 100 thai baht ($3 USD). I purchased a durian with littlefoot at Jungle Jim's in Cincinnati for $22 USD which was frozen so it had to be thawed out quite a while. That's yet another benefit to living in a warm tropical environment – the selection and price of fresh fruits and veggies. Especially tropical fruits like mangos, pineapples, dragon fruit, etc.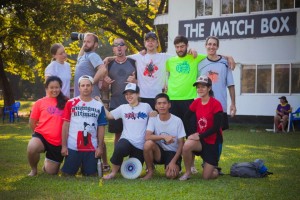 During my stay with Rachelle in Chiang Mai, I learned of an annual Ultimate Frisbee Hat Tournament. I love playing ultimate, so I decided to sign myself up. Then I learned there was a theme for the after party: "heroes that never quite made it." In true American style, I decided to go as Chris Pontius (Party Boy from MTV's Jackass). My costume comprised of a speedo, headband, and that was about it. The tournament was amazing and I met a ton of new friends. Many live in the area and travel all over the world teaching english or working short-term contracts before moving on to another country or area. Most of the people playing in the tournament were also die-hard ultimate players that have played in many many tournaments before. So suffice it to say, I wasn't very good, but learned a lot and had a BLAST playing with them. Our team name was "They're greeeeeaaaat!" and we ended up placing 5th out of 8 teams. We missed the semi-finals rounds by 1 point.

As the sun rose and fell every day, I learned more about Thailand, met wonderful new friends, and enjoyed wonderful dishes that I never heard of before. This is yet another benefit of traveling – so many new things each and every day. A lot of people have asked me how I make so much money to be able to travel to so many places. This is a big misconception of course. The difference lies in the type of adventure you go on. Traveling is one thing. Going on vacation is another. Traveling doesn't require much money and is more of a way of life as opposed to a 2-week spending spree. Be well. And namaste.
What is your favorite place to visit and why? What kind of things did you experience there that made it so special?
Related Reading:
No Responses to "Temporary permanent residence in Chiang Mai Thailand"