Dec 27, 2012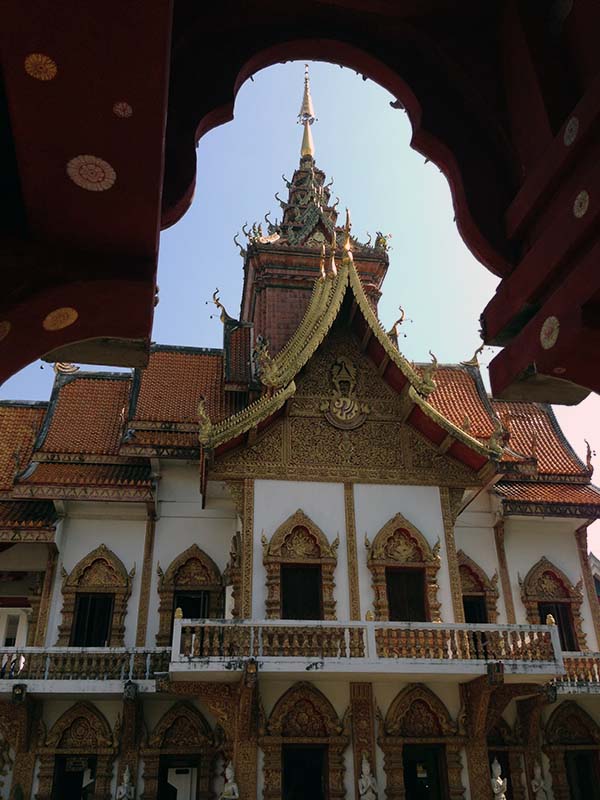 December 16. Day 1.
The flight from Cincinnati to Chicago went off without a hitch. My layover in Chicago was ~3.5 hours so I had plenty of time to get a bite to eat, stretch my legs, wander a bit, go through customs, and settle in for my longest flight ever. The flight from Chicago to Amman was MURDER. (15 hours) 4 movies. Lots of talking with my new friend Abdullah who is a college freshman in FL at FIT …a rival to my alma mater ERAU. Small world. A couple small naps and LOTS of tossing and turning. I used to think I could sleep anywhere. This trip proved otherwise. I CANNOT sleep sitting up. I arrived in Amman waiting for my friends Nader and James with lots of negative thoughts about Amman. I thought there would be gunfire in the streets, fires everywhere, etc. I couldn't have been any more wrong. We started by going to Buffalo Wings and Rings (where some friends work) which has become a hotspot throughout Jordan. Had some great food, a couple beers, lots of laughs, great conversation, and met tons of people.
We walked around Amman for a couple hours and I experienced a new food that I LOVE. Falafel. I don't quite know what's in it, other than it's a vegetarian snack. The outside "wrap" tastes and looks like a waffle and it is stuffed with all sorts of good stuff. I think veggies, hummus, and a few other ingredients I wasn't quite sure of. Even better? It was cheap. Like REALLY cheap. Jordanian Dinar are worth more than the dollar, but it was still less than $1 USD for this tasty treat. We each had one and continued on. I bought a patch to sew onto my rucksack, a couple postcards to send home to friends and family, then we sat in the circle near BWR at a great little coffee shop called Bravo. I met some more people, shared lots of laughs and then hopped in the car to check out some ruins.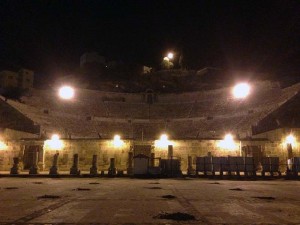 Nabil drove me all around town and showed me both the ritzy and ghetto areas of Amman. At the end of our drive as we were all saying our goodbyes, Nabil gave me the keychain off of his own personal keys as a memento and reminder of my time in Amman. I rushed back to the airport, went through security, and boarded another long flight (9 hours).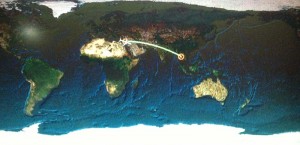 This flight didn't seem nearly as bad since it was a good 6 hours shorter than my previous leg. Once I arrive in Bangkok, it took quite a while to get through passport and immigration due to the large volume of people arriving. I walked out to the front lobby to get a SIM chip for my iPhone 5, but they were sold out of nano SIM chips. The guy behind the counter said I needed to go to the center of downtown Bangkok to the AIS store in the shopping mall to get a nano chip. I asked for directions, but didn't understand much. I remember: train, last stop, down stairs, enter mall. 45 THB later ($1.50), I was on a 20 min train ride to downtown Bangkok. I got completely lost at the Phaya Thai station and wandering around several buildings that looked like they may have been retail centers of some kind, but once inside I realized they weren't.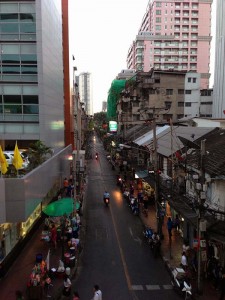 I must have asked 15 people for help and none of them spoke a lick of English. I tried not to sweat it and just enjoy the sights, sounds, and scenery of a completely new place. I finally found a gentleman who pointed me in the right direction. As in, he got out of the line he was in, walked me over to the map, pointed to where I was, where I needed to go, then helped me by talking to the person behind the ticket counter and got me all set. He was my trail angel for the day. I arrived at the correct station, found the mall, and wandered around. I was surprised to find a Lamborghini dealership in the middle of a retail shopping center? Interesting place to put one…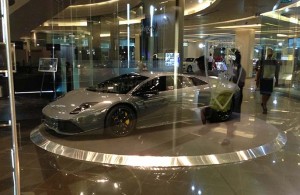 I got my SIM chip and charged up a prepaid card with 2 GB of data for 650 Thai Baht ($21) and went on my way. The next wrench in my day was my cell phone dying. Without my phone, I didn't have Google or Apple Maps. Which meant I was back to square one; trying to read signs with nothing but squiggly lines everywhere. I didn't know exactly where I was or where I was going to catch my overnight train to Chiang Mai. I found a couple more people who went out of their way to help me and I was grateful. The sky train I took to the metro interchange was relatively short, then I switched from the above-ground to under-ground train, and made my way to Hua Lamphong rail station where I waited for my departure. I sewed on a couple more patches, grabbed some veggie pad thai, a bottle of water, and headed to my sleeper cab.
My cabin was a private, first class sleeper (~$63 USD for overnight train). In it were a TV, VCR, sink, comfy twin sized bed, large window, my own A/C, tables, and a couple nooks to store things. The bed even had a riser system that mechanically raised the back half of the bed so you can lay down, but be sitting up at a comfortable angle to view everything passing by the window outside. There were also 3 adjustable lights that were nice to play with and get the right mood lighting for my commute. I dozed off and slept like a rock… finally! Seeing as though I had been up for almost 48 hours straight. I had an alarm set for 6am so I could watch the sun rise through the mountains and catch the sights as I chugged on towards Chiang Mai.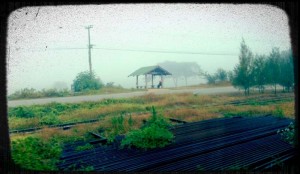 Two and half days after I left Cincinnati, Ohio, I finally arrived in Chiang Mai. Let the adventures begin! Be well. And namaste.
What is the longest flight you've taken while traveling? How did you deal with the long spans of time while sitting on coach?
Related Reading:
2 Responses to "The start of my adventure"