Jan 24, 2013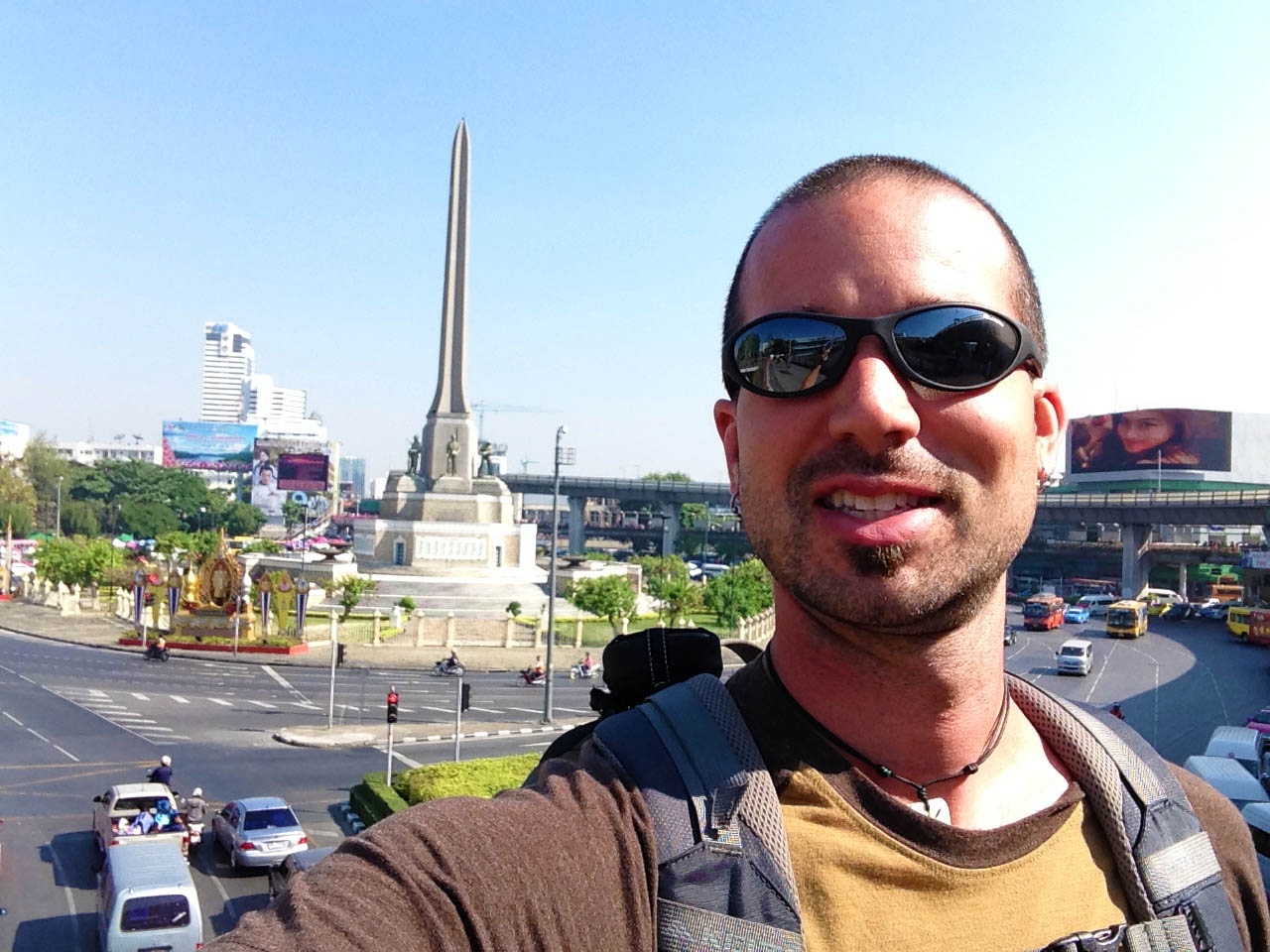 January 1. Day 17. 2013!! Happy New Year everyone!
First things first. I may or may not have worn underwear (a gentleman never tells) while in Thailand, but I certainly didn't do any jail time.

Now onto my adventures in Bangkok…
After the fireworks ended (amazing by the way – Railay Beach knows how to throw a New Year's Eve Party for sure!), I stretched out my bamboo mat and slept on the beach (again). I woke to a beautifully clear morning, gathered my things, and walked to Railay East to grab a long boat back to Krabi to start my long trip back towards the mountains of Chiang Mai (739 miles to the north). Along the way, I passed by the near-vertical hiking entrance to the Lagoon and Lookout, the area where I fed several monkeys, and rounded the corner where several climbers were red pointing a new route.
With each step I took, I couldn't help but to think of a particular Mishka song, "Some Paths." The lyrics beautifully state 'some paths will not forget you. Some roads remember foot steps, even though you left.' I smiled uncontrollably and I'm sure some of the people I walked by going the opposite direction wondered what the hell I was smiling about. I've been gone for only 17 days and already, things are so vastly different. Perspectives have changed. New priorities have been solidified. The old cliche goes, "The world is not in books and maps. It's out there." I've experienced so little compared to other great adventurers of the world, but yet, it has made such an astounding impact on me. I have been humbled by the ever-changing horizons of constant travel. Just then, I turn to look at the island rock formations one last time before boarding my taxi boat and see this:

It's easy to get a little sappy when you see things like this. I won't lie, I teared up when I saw that sunrise. Remove the hustle and bustle of the daily rat race and you can actually take time to appreciate and feel how beautiful nature can really be. This has been one of my (rules on life) for a long time now, but it never meant so much to me as it did right then. "The only things in life you regret, are the risks you didn't take." One year earlier, I had never thought of selling my possessions, quitting my job, and buying a one-way plane ticket to the other side of the earth. I never dreamt of sleeping on the beach at night after watching new year's fireworks with several thousand people. Or of traveling with nothing more than a rucksack filled with (9 kg of essential gear).
I boarded the boat and headed towards Surat Thani. The next thing I know, I'm stuffing my face with two delightful women I met on the bus at a small street side cafe. Saskia and Rakinder. We laughed until we were sore, ate until we could barely move, and shared stories for what must have been 2.5 hours. After lunch, we all headed to the train station. I was originally supposed to couch surf in Surat Thani for a few nights, but couldn't get a hold of my host, so I did some quick checking and found it would be cheaper to get an overnight sleeper cab up to Bangkok and try my couch surfing options there instead of staying in a hostel and showing up for my already paid-for flight. Once at the platform, we (this goes to show another point of traveling solo; you're never alone because you meet cool people everywhere) met Chris and I-shit-you-not, Aphrodite, from New Zealand. They were also doing some long-term travel and we all shared more stories before wishing each other well as we boarded the train and went to our separate cars and bunks.
I slept like a rock and woke up in Bangkok about an hour before arriving at the station. As I was approaching the station, I checked my couch surfing inbox for any invites and sure enough I had a couple to choose from. Enter Rhythm luxury high-rise condo and Rex. I also met Francesco, Kristen, Paul, and Kuba while surfing at Rex's place. The condo was immaculate and it was easily the best place I've stayed so far on my journey. Even better still? It was free. That pretty much encompasses two wonderful perks of couch surfing: meet really cool people from all over the world and sleep for free as opposed to paying for a B&B, hostel, dorm, or hotel.
The following day, Rex went to work and Paul, Kuba, and I explored Bangkok a bit. We ended up  going to the Royal Elephant Museum, Vimanmek Palace, and tried getting into the Ananta Samakhom Throne Hall, but unfortunately it was closed.
After the museums, Paul and Kuba went shopping and I opted for a quick subway ride back to Rex's place to see what Francesco and Kristen were up to. Kristen's holiday was nearing the end so she ended up getting her own hotel room nearby and Francesco and I headed to the 34th floor infinity-edge pool overlooking downtown Bangkok.
We got some sun, shared some travel stories, and got to know each other a bit. Francesco is from upstate New York and has been traveling for 2 years straight. He's visited ~70 countries and has plans to see many many more before settling down in one place. Rex hosts A LOT of couch surfers and already had some guests who RSVP-ed before my last-minute trip to Bangkok so I checked my couch surfing inbox, found a few more invites, and headed to Wachi's place. As soon as I arrived at Wachi's, I met several people and we started decorating for her 30th b-day party.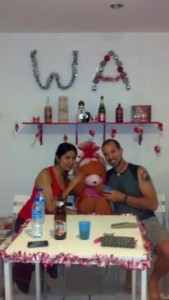 After staying up until 4am decorating, having a few cold beers, and getting to know Wachi, Aimee, and Jan, it was easy to sleep in late. When I woke, I learned about dinner plans at a place called La Monita (they serve authentic Mexican food) and Wachi asked if I could DJ the after-party at her place after dinner. I wandered over to the nearest shopping area, found a cheap speaker for my laptop and headed back to get ready for dinner. The 4 of us hopped the subway and skytrain to the restaurant and prepared for the feast.
Before I knew it, there were ~25 people and more food than anyone knew what to do with. We ate and ate and ate. The food was delicious, the people were great, and the atmosphere couldn't have been any better. It was such a wonderful party for Wachi's birthday. Afterwards, we headed back to her place and we all kept the fun times going well into the following morning. I met more wonderful friends – Apple, Hannah, Maddy, Emile, and Paul. Basically, no two people were from the same country and we were all in search of one thing – happiness. Apple taught me some Thai cuss words, Hannah told me about all the kids in her classes, and Emile and Paul were just downright hilarious and had most of us in stitches all night long. Many had quit their "real jobs" for travel, teaching native languages in foreign countries, or just traded in old horizons in favor of new ones. When I finally woke up, Jan and Aimee were miserably hungover and the 4 of us headed out for lunch. The common response to "how are you feeling?" was "kill me now!!" I think we've all been there and know exactly how that feels. Here Jan non-verbally expresses exactly how he was feeling.
After lunch, we headed back to the apartment, I did some laundry, took a nap, packed my things, and was off again. I was sad leaving Wachi, Aimee, and Jan, but knew I had other things to do, people to meet, and places to see. Be well. And Namaste.
Random information about Thailand:
If you don't wear underwear, you can literally be thrown in jail. (Illegal to not wear underwear in Thailand – how they enforce this? I'll never know…)

The formal and actual name for Bangkok is "Krung Thep Mahanakhon Amon Rattanakosin Mahinthara Yuthaya Mahadilok Phop Noppharat Ratchathani Burirom Udomratchaniwet Mahasathan Amon Piman Awatan Sathit Sakkathattiya Witsanukam Prasit." (longest city name on earth)
Due to heavy construction and development, Bangkok is sinking 2-5 cm per year into the earth.
Bangkok and Chiang Mai have been named as the top two cities on earth for multiple years by Travel & Leisure magazine.
The 5.5-ton Golden Buddha at Wat Traimit in Bangkok is the not only the largest solid gold Buddha in the world, but also the most valuable (moneywise) religious object – valued at over 250 million US dollars.
Have you ever been to Bangkok? What places did you visit? What activities did you enjoy while there? Anyone know what a sak yant is?
Related Reading: