Jan 22, 2013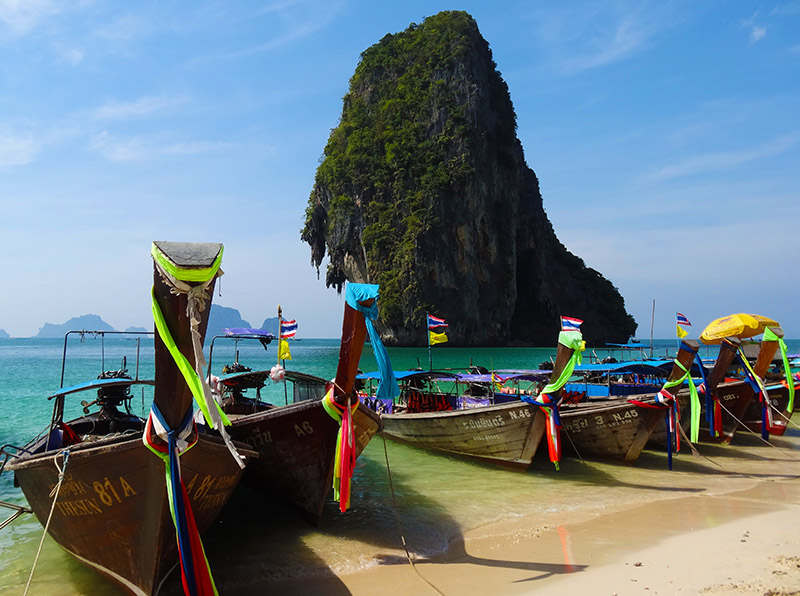 December 28. Day 13. Party day. As in THE Full Moon Party on Haad Rin Beach. However, after several nights of partying – especially my encounter with Thai Methamphetamines – I decided it was time to pull chocks and head to another place. I had spent 4 days on Koh Phangan and felt I had explored all I could. Full Moon Party? Nah – not my thing. Onward.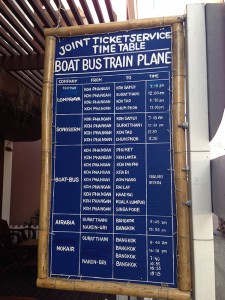 I headed to the Thong Sala Pier to see what options I had to leave the island. The ferry times were posted in many places so it was decision time. Where did I want to go? Hmmm… I had seen and explored a good portion of the Eastern Andaman coast; perhaps the Western Andaman coast? Yup. Decision made. Western coast or bust. And with that decision, I had some time to kill. almost 3 hours actually, so I grabbed some juice and found a nice veranda area near the pier to kill some time. What better place to practice yoga and do some meditating?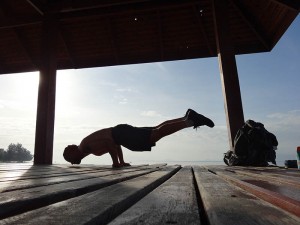 I returned my bike back to the place I rented it from, retrieved my passport (XXXXX) and walked back to the pier. Now I had a few more hours to kill because someone mentioned the ferry I bought a ticket for was having maintenance issues so there was gonna be a slight delay (slight delay combined with "Thai Time" = 3+ hour delay). I sewed some more patches on my ruck sack, had a couple veggie sandwiches for 30 baht each ($1) and board the boat. An hour later I was in Koh Samui and 2.5 hours after that, I was at Don Sak Pier waiting for a bus transfer to Krabi Town.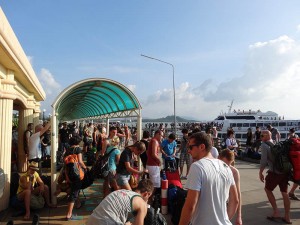 Once I arrived in Krabi Town, it had been a full day of traveling – most of it being in the hot southern Thai sun so I was beat. I grabbed some juice, wandered from the bus stop into Krabi Town, found a nice hostel (P. Guesthouse) for 300 baht, took a hot shower, and retired for the night; after all, I had more traveling to do in the morning to get to Railay Beach.
December 29. Day 14. I woke up fully rested, checked out of P. Guesthouse, and headed towards the pier. Along the way I found a nice little coffee shop with good wifi and stopped for some hot tea. As soon as I walked out the front door, I was approached by a scruffy little guy asking me if I wanted to go to Railay Beach. 150 baht ($5) and an hour later I arrived on what had to be the prettiest place I've been to yet.
In order to find an affordable place and learn my surroundings, I've made a habit of wandering around for a while before settling in. This way I can see what's available in terms of food, hostels, entertainment etc., and then decide which places I wanna check out.
There was quiet a variety of places to stay in on Railay. Remember, this was "high season," but still, Rayavadee was the nicest place (and had the highest prices of course – $5,400 per night with a 7 night minimum stay?!). I ended up staying at Rapala Inn for a mere 300 baht per night ($10). I had a queen sized mattress, private bathroom with shower, and a hammock already strung out for me on the front porch. My own private bungalow just 100 yards up the hill from the center of town.
I dropped my things inside, grabbed a quick shower, lost a few layers, threw on some SPF 50 and headed back out. Time to see what this island had to offer. I bought a shoulder sling bag, 3 postcards, sarong, bottle of water, and 3 bananas – all for 265 baht (~$9). On the way to the other side of the island, one of the ladies at once of the booths mentioned I should hold onto my things or hide them because the monkeys would get them. I perked up right away and thought to myself – monkeys? Steal my stuff? Nahhhh. She's messing with me. Just then I turned the corner and found TONS OF MONKEYS.
I even decided to share one of my bananas and feed one of them…
I spent the next 2 days exploring all that Railay Beach has to offer. Most notably, the lagoon and lookout (click here). I also started some more serious trip planning seeing as though I wanted to focus on couch surfing. Countries, cities, dates, arrivals, departures, visas, train, bus, and plane tickets. It was time to nail down at least a few details so I could spend less on my travels. After 2 nights in my bungalow, it was time to bid it farewell and head to Railay West for some work (catching up on my travel journal). I took out my ENO Hammock, set it up in the mangrove overlooking the beach, and settled in.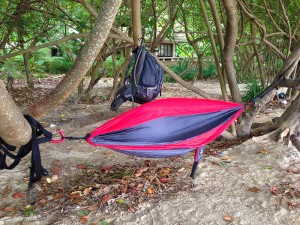 The view from my hammock was incredible. People were getting massages nearby on the beach. Each person smiled almost uncontrollably as a small thai woman not any bigger than 5'0″ tall and 45 kg in weight revealed her talents. 3o min massage? 100 baht ($3). Just then, a crowd started to gather and everyone was staring in the same direction. I got up to see what the commotion was about and was delighted with what I saw. It was a young man slack-lining between two of the mountain peaks just a few thousand meters away and a couple hundred meters up.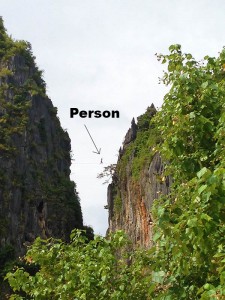 The day wore on and the wind picked up. Waves grew and rain started falling. I was dry and safe under the cover of the mangrove. The rain was so incredibly peaceful, that I fell asleep. When I woke, it was dusk and time to head to the fireworks show to bring in 2013 with a bang.
Have you been to the western Andaman Coast? Did you know that James Bond's The Man With The Golden Gun was filmed here?
Related Reading:
No Responses to "Yoga, Meditation, and Monkey Thievery"