Jan 11, 2013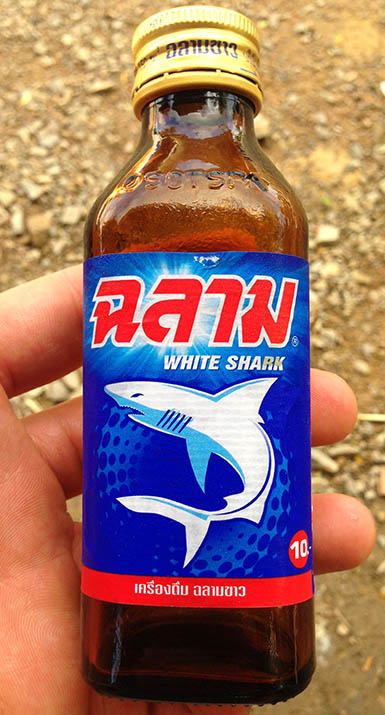 December 21. Day 6. I wandered around town most of the afternoon checking out the temples and as the sun began to set, decided to duck into a little chill bar just inside the eastern wall for a bite to eat. Here I had some wonderful pad thai, a tiger beer (or two?), and met Bradley and Damien from Cape Town South Africa. Damien was DJ-ing and had some great trance chill songs spinning. He also played "it's the end of the world as we know it" to celebrate 12-21-2012 which we both laughed about. They've both been living in Chiang Mai for some time now and have made it their home and have the warmth and friendliness of a familiar 20-year friendship. We all took to each other in a short amount of time and knew we had to hang out the rest of the night together.
After we left the chill bar, we went to a lively pulsating area called Zoey Yellow. Here we shared a few buckets of Red Bull and Vodka, danced the night away, met more friends, and shared some great laughs. Before I knew it, it was 4am and time to head back to my hostel on the other end of old Chiang Mai. Once home, I couldn't sleep and didn't learn until the following afternoon that three specific energy drinks in Thailand (Red Bull, M150, and White Shark) have methamphetamines (speed) in them – no wonder I couldn't sleep?! They all come in little brown medicine bottles and are quite syrupy by themselves. By the time I finally did fall asleep, time passed quickly and I woke up 12 hours later EXTREMELY hung over. I lost an entire day while sleeping off the previous night's excitement. The weird part is I was never buzzed or drunk so I couldn't quite figure out why I was so hung over…
2 days after my unsuspecting experience with speed, I was aboard an overnight sleeper train back to Bangkok to catch a flight down to Surat Thani so I could head to the islands of Koh Samui and Koh Phangan. I met 3 Aussies who were all on holiday. We shared travel stories, future plans, and many random conversations. 2 of them were originally from Thailand, but raised in Sydney. 1 of them was British and also raised in Sydney.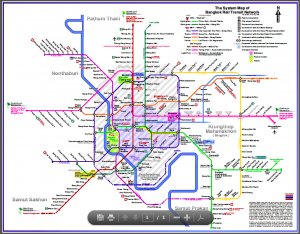 After arriving in Bangkok, we wished each other well, and went our separate ways. This time around, I had a train map in english and after learning what NOT to do my first time around, I navigated the train system of Bangkok with the confidence and ease of a seasoned local. Transfers to and from the skytrain and metro lines came easy and were surprisingly pleasant once I learned how to use the maps. My flight to Surat Thani was smooth and peaceful. Most people seemed to be heading to either the eastern or western islands of the Andaman Coast. On approach into Surat Thani, the weather turned sour and we landed in the middle of a thunderstorm. I donned my rain jacket, zipped on my convertible pants, and put the rain fly over my ruck sack. Surat Thani airport is rather large despite the fact that it only gets 5 commercial flights a day. Next to us was an older G-IV in desperate need of a paint job. I walked into the lobby, bypassed the baggage claims since I didn't check anything (benefit of traveling light), and scored a 500 baht combo bus-and-ferry ticket to Koh Phangan. I read online it would cost me 700+ baht so I was rather happy to save the money.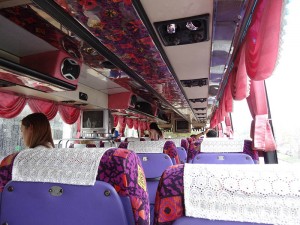 The bus ride took 1.5 hours and here I met Robert from Germany. He lived in Cambridge for 3 years and recently moved to Wales where the cost of living is much lower. He's also near the sea now and has plenty of nature around him instead of the concrete jungle where he used to live. Robert was spending his usual 5 weeks in Thailand – just like he does every year during the holidays. He and I grabbed some fried rice with pineapple and mushroom soup at the pier for 50 baht each ($1 and 66 cents), jumped on the ferry, and braved the stormy seas of dusk towards Koh Samui and Koh Phangan. The waves were 6-9 feet and sometimes crested 12 feet so it was a longer trip than usual. Any higher and the trip would have been cancelled until the following day since the ferries stop running during storms and high seas. I also met David from Brixton who was also on holiday.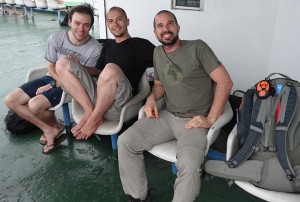 During our ferry trip, we met Julia from Russia who quit her job at Banana Republic in favor of a life of adventure. She was returning from a border run to Malaysia so she could reset her Thai visa to another fresh 29 days. Koh Samui revealed itself from time to time through the misty fog. Tiny little islands were everywhere and randomly jutted out from the seas along our path. It seemed like we were passing Koh Samui for 3 hours; what a big island. David from Brixton near London joined our entourage and we all shared the usual "where from," "where to," and "how long are you traveling" stories of fellow backpackers. We all seemed to have quit our jobs in favor of new life adventures and horizons to discover. We traded the stresses of everyday professional life for the stresses of "what to do today" "where to eat," and the constant sun chasing of island life.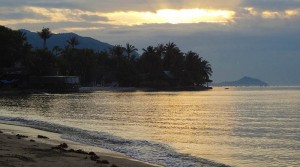 We arrived at Thong Sala pier on the central western part of Koh Phangan, disembarked, wished each other well, and dispersed like bugs after a light switch being flipped on. I jumped on a scooter taxi (exactly as it sounds: hop on the back of a small 125 cc scooter and HOLD ON) for 100 baht and weaved my way to Ban Tai where I was to meet my CS-ing host Teun at the Hard Road Cafe. Teun is a Dutch economics teacher traveling on holiday from Holland. 5 weeks was the length of his trip. (this length of holiday vacation seems to be common among travelers, but still blows my mind; a person would have to work at a company in the U.S.A. for 10 years or longer in order to get 5 weeks of paid vacation and even then, wouldn't be able to take all 5 weeks consecutively) Most of these people were young (early to mid 20′s and a few in their late 20′s and early 30′s) so I knew that couldn't be the case. When I asked them how they got that much time off, they said it was normal and common practice.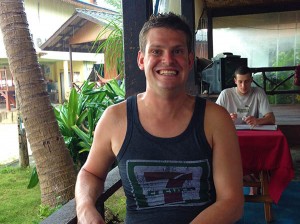 Teun and I started by getting acquainted as he showed me around the bungalow which was literally across the street from the Hard Road Cafe and through a small field filled with dirt roads winding off in different directions and tons of palm trees 60 feet or taller gently swaying in the salt air and warm breeze. 30 yards from the bungalow was the ocean so I could hear it clearly both inside and on the front porch. Inside was a queen sized mattress, smaller storage area, and a cold-shower bathroom. The front porch was small, but large enough for a hammock to be strung across the rafters of the roof. Teun mentioned I could have the bed since he preferred to sleep outside on the hammock.We were both getting hungry and he mentioned I HAD to try a very common style of restaurant found in the islands – Hot Pan BBQ.
Imagine a normal sized table, with a hole in the middle of it about 10 inches across. Inside this hole is a bucket of some kind. When you arrive at your table, the waiter asks how many people and what you want to drink. Then as he rushes off, another person promptly shows up with a large pan filled with glowing red-hot coals and a large stainless steel spoon. He scoops some smoldering coals into the bucket and places the "hat" on the bucket in the middle of the table. The hat is a thin metal of some kind with a domed and perforated center and a rim around the edge. The rim is filled with water which boils very quickly above the intense heat of the coals.
Teun showed me the ropes at the buffet tables and we each filled up 2 plates of raw ingredients. Once we returned to the table, we dumped in a large amount of green onions, mushrooms, and a few others greens to start the soup (in the rim of the hat around the edge). Teun cooked up a large amount of seafood on the top of the hat while I used the lower edges for tofu, veggies, and spring rolls. The clincher for this type of meal? Unlimited trips to the buffet for 130 baht per person ($4). We dined like kings and lived in the moment. Not a care or stress in the world. We spoke of food, women, travels, and life. We shared where we came from, where we were, and where we wanted to go. 3 hours slipped by in the blink of an eye. It was time to retire for the night.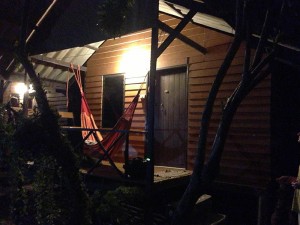 We explored the island the following day on his scooter and quickly learned that it would be easier if I rented a scooter as well. The hills between Ban Tai and Haad Rin were simply too much for the little 125 cc bike carrying 2 grown men. I walked towards town and must have stopped at 8 different places advertising that they rented scooters. Most places were asking 200 baht per day and this seemed a little high after seeing the prices in Chiang Mai. I knew the islands would be a tad more expensive, but not double so I figured it was time to start haggling. I finally found a place willing to rent me a new bike for only 120 baht per day for 4 days. Haggling of most everything is common practice in Thailand so if you aren't good at it, you'll get plenty of practice. NEVER pay full price for anything here unless its already ridiculously cheap.
We went to the jungle party one evening and WOW was it amazing. I'm not a very good writer so I'm hoping a few pictures will do me some justice. It was in an area a little larger than the size of an american football field. (say football over here and everyone thinks of soccer) There are natural streams with teak foot bridges crossing in numerous directions. The bamboo huts are either bars or food cafes. There are lasers, fog machines, strobe lights, pulsating lights, chill areas, couches, seating areas, dance areas, black light art displays the size of large cars, stages, and a sound system any indoor club would be proud to have. Within a couple short hours, the  crowd went from a few hundred to a couple thousand. All pulsating in sync to one another and the vibrations of the electric music the DJ was spinning. Before I knew it, it was 4am and time to head home.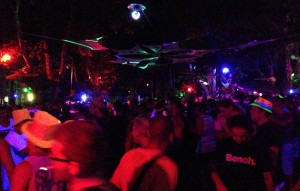 I woke up, meandered over to the beach restaurant nearby for a fresh coconut shake (and when I say fresh, I mean fresh as in – when you order one? A little guy comes out of the side of the building, walks around the patio area onto the beach, climbs 40+ feet up a palm tree, chops down a few fresh coconuts, and heads back to the kitchen to prepare them), and headed across the street for a good wifi connection to Skype my family on Christmas morning (Christmas Eve for them 12 hours behind me, but worked out well because my family gets together on Christmas Eve to celebrate together). It felt great to see my mom and dad again. I also saw my sister, her husband, and their 3 beautiful kids. We caught up on what I've been experiencing, what's going on back home, the kids showed me some of the gifts that santa brought them, and dad and I cried together.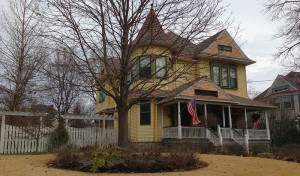 Teun and I drove all over the island the next 2 days and explored every nook and cranny we could on the island. Elephants were common sights along the roads as were touristy shops with fluorescent colored shirts and cheesy 1 liners for the famous parties that can be found all over the island. Hot Pan BBQ was the dinner of choice and the other meals tended to be a free for all and every man for himself. I normally had pineapple or orange juice in the morning and pad thai or curry rice with veggies for lunch. All cheap. All local. All in season.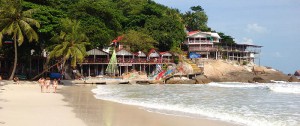 I bode farewell to Teun the morning of the 27th and drove around the island one last time. This turned out to be an all-day ride in the beautiful warm sun, salt air, and winding roads of Koh Phangan. I ended up going back to the beach near the bungalow I stayed in with Teun where I stretched out my hammock between two trees and drifted off to the sounds of waves crashing just 20 feet from me underneath hundreds of stars and a clear full-moon night.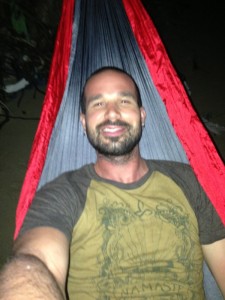 Have you been to Koh Samui, Koh Phangan, or Koh Tao? What discoveries did you make long the way on these islands? What activities did you enjoy?
Related Reading:
No Responses to "Thai Methamphetamines and Hot Pan BBQ"